What's wrong with having a few little sparrows around?
On May 5th, 2003 the eggs in the Nest Cam house #5 were attacked by a male English Sparrow while both of the martins were out feeding. The last of their 5 eggs were laid earlier that morning. Two of the eggs were destroyed, a third had a hole in the shell and had to be discarded. The airborne vermin pecked at the eggs and pushed them away from the nest toward the door.





The only available image before the attack was a thumbnail taken approximately 12:00 PM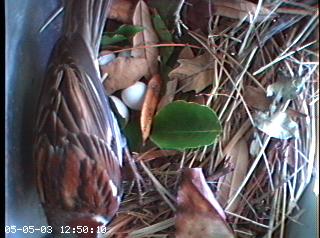 12:50 PM - This image clearly shows the culprit, a male English Sparrow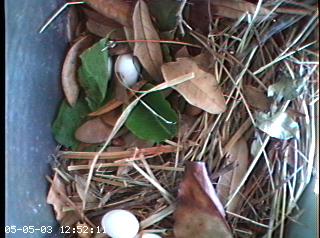 12:52 PM - Two minutes later only two undamaged eggs remain. The female martin probably returned in time to save the last of her eggs.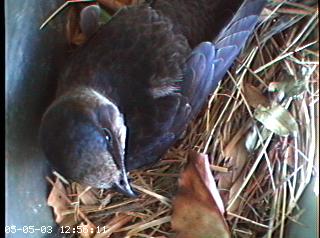 12:56 PM - The female martin sitting on what is left of her eggs
Sparrows compete with Purple Martins, and everything else, for nesting sites. The English Sparrow is a very aggressive foe. They have been known to attack and kill sitting Bluebirds, building their own nest over the top of the dead bird and her unhatched eggs.
Update: I have now built two new birdhouses exclusively for the English Sparrows and Starlings. Both of these houses are equipped with wooden "decoy" eggs and nestbox traps. The birdhouses have proper ventilation, but must be monitored closely, so that native birds can be released unharmed. During the latter part of the 2003 season we trapped 4 English Sparrows and 18 Starlings in these houses.